5% of U.S. population used some kind of mobility device in 1994, approximately 281 million persons (U.S. Census, 2000).
3% of Americans lived in homes with any kind of accessibility features, although almost 30% of families contained at least one member with a disability (Kaye, 1997).
Over one-million households that have a resident with a disability have unmet housing needs (Kochera, 2002).
For individuals with mobility issues, inaccessibility can have significant consequences:
Social isolation
Compromised health and safety
Institutionalization
Why Visitability is important…
The ADA covers public and municipal buildings, the Fair Housing Act Accessibility Guidelines (FHAAG) cover only multifamily dwelling units. Townhouses and single family detached homes are not covered by the FHAAG.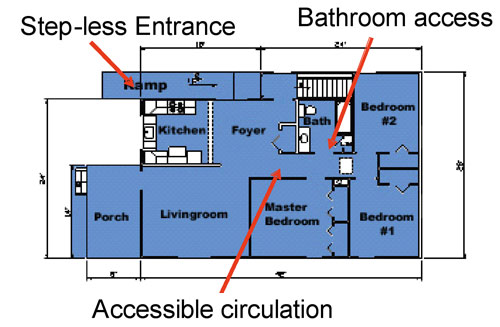 Three Principles of Visitability
Social Participation is a civil right. Visiting other people's homes is as important to people with mobility limitations as it is to other people
Access is cost-effective if planned in advance. For example, in new construction adding a no step entrance and wider interior doors costs approximately $300.00. The cost to make these changes to an older dwelling, or retrofit, would be $7,500 - $15,000 depending upon the unit. Source: Overton, 2000; Concrete Change
Simplicity promotes implementation (Rodgers, 1995)
Visitability Features:
One zero step entrance on an accessible path of travel
32 inch clear opening at doorways and accessible circulation throughout the floor plan
Basic access to at least one bath or half bath on the ground floor
Visitability in the United States
U.S. Representative Jan Schakowsky (D.-Ill.) introduced H.R. 2353, The Inclusive Home Design Act, in June 2003. "It defies logic to build new homes that block people out when it's so easy and cheap to build new homes that let people in," says Schakowsky.
Visitability in Connecticut:
Led by Independence Unlimited and supported by a variety of public and private organizations, Public Act 10-56 "AN ACT CONCERNING VISITABLE HOUSING" Was signed by the Governor on May 18, 2010. It is notable that no testimony in opposition to the legislation was received.
What does it do?
The Act spells out what the visitable features are and describes Connecticut's voluntary model of Visitability:
For purposes of this section, "visitable housing" means one-to-four family residential construction that includes three basic architectural features to allow persons with disabilities to easily visit: (1) Interior doorways that provide a minimum thirty-two inch wide unobstructed opening, (2) an accessible means of egress, as defined in Appendix A to 28 C.F.R. Part 36, and (3) a full or half bathroom on the first floor that is compliant with the provisions of the Americans with Disabilities Act of 1990, as amended, 42 USC 12101.
The Department of Economic and Community Development, in consultation with the Connecticut Housing Finance Authority, may establish a program to encourage the development of visitable housing in the state. The program shall (1) provide a single point of contact for any person seeking financial or technical assistance from the state to construct visitable housing, (2) identify financial incentives for developers who construct visitable housing, and (3) include public education about such housing.
The full text of the bill, click here.
For a summary of the public testimony, click here.
For more information (links):
IDEA Center
School of Architecture and Planning University at Buffalo
378 Hayes Hall
Buffalo, NY 14214-3087